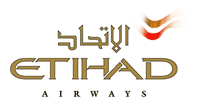 James Hogan, Presidente e CEO di Etihad Airways, è stato premiato per il suo "eccezionale pensiero strategico e leadership" con il premio nella categoria Executive Leadership ai prestigiosi annuali Airline Strategy Awards di Londra. Il premio è stato consegnato nel corso della cerimonia di gala tenutasi all'Honourable Society del Lincoln's Inn, dove erano presenti centinaia di senior executive di compagnie aeree di tutto il mondo. L'Executive Leadership Award è stato decretato da un gruppo di giudici esperti del settore aviazione, dopo un esame approfondito delle performance di Etihad Airways negli ultimi 12 mesi. L'analisi approfondita è stata condotta sull'aumento di redditività della compagnia aerea, sulla crescita più alta del settore e sulla nuova e unica strategia di partnership con altri vettori aerei. L'Airline Strategy Award segue la nomina di Hogan come CAPA Aviation Executive of the Year 2012, con il quale è stata riconosciuta la sua "influenza nel settore del trasporto aereo, l'eccezionale pensiero strategico e l'innovativa strategia di crescita".
Max Kingsley-Jones, presidente della giuria e redattore della rivista Airline Business, ha dichiarato: "Sono felice di aver conferito quest'anno il premio di Executive Leadership a James Hogan. I giudici sono rimasti enormemente impressionati da ogni aspetto della sua leadership in Etihad Airways e dai metodi innovativi con cui il vettore aereo è cresciuto in statura e successo. Negli ultimi 12 mesi molte compagnie aeree in tutto il mondo hanno dovuto lottare per contrastare il difficile periodo economico, ma Hogan ha saputo guidare una crescita notevole e la giuria è stata felice di nominarlo Executive Leader dell'anno nel settore aeronautico". La giuria era composta, tra gli altri, da Geoff Dixon, ex Managing Director e CEO della compagnia aerea australiana Qantas, Ray Webster, ex CEO della compagnia low cost easyJet, Doug Steeland, ex Presidente e CEO del vettore americano Northwest Airlines, dal Professor Rigas Doganis, ex direttore del trasporto aereo alla Cranfield University e da Chris Tarry, uno degli analisti dell'aviazione meglio quotati sul mercato finanziario di Londra.
Hogan ha dichiarato, "Sono davvero onorato che il mio lavoro sia stato riconosciuto dai colleghi leader dell'aviazione globale e questo premio rappresenta un grande riconoscimento per tutta Etihad Airways e per i nostri azionisti di Abu Dhabi. Cinque anni fa, per conto di Etihad Airways, ho firmato il più grande ordine di aerei commerciali – 205 aerei a fusoliera stretta e larga – al Farnborough Air Show. Da allora abbiamo fatto passi da gigante e nessuno ha saputo fare di meglio l'anno scorso. Questo riconoscimento giunge al culmine di 12 mesi incredibili durante i quali abbiamo aumentato la nostra redditività, concentrato una grande quantità di energia sul servizio al cliente, naturalmente senza mai perdere di vista la sicurezza e portato avanti la nostra strategia di sviluppo".
Nel 2012, Etihad Airways ha registrato una crescita del 200% con ricavi netti pari a 42 milioni di dollari su un ricavo totale di 4.8 miliardi di dollari, con una crescita del 17% rispetto all'anno precedente. Il numero di passeggeri è cresciuto del 23% oltrepassando i 10 milioni e il vettore aereo ha contribuito con 2.3 miliardi di investimenti diretti all'Emirato di Abu Dhabi e con 8.4 miliardi di spesa indiretta. La compagnia ha siglato nuovi accordi di partnership in codeshare con altre compagnie aeree in tutto il mondo, seguendo la sua spinta nel creare un nuovo modello di business per l'aviazione. Nel 2012 la strategia ha fatto aumentare i ricavi di Etihad Airways di 600 milioni di dollari. Gli accordi di collaborazione con le altre compagnie aeree sono stati progettati per trovare metodi innovativi per affrontare i costi e lavorare sulle sinergie, approvvigionamento e manutenzione. La compagnia detiene inoltre partecipazioni in airberlin, Air Seychelles, Virgin Australia, Aer Lingus e, previa approvazione governativa, acquisirà il 24% dell'indiana Jet Airways.
(Ufficio Stampa Etihad Airways)