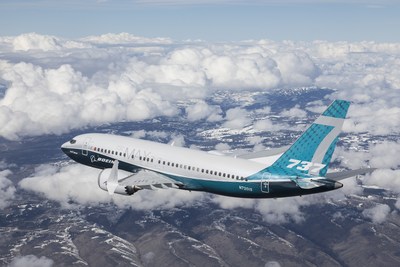 Il nuovo 737 MAX 7 ha completato con successo il suo primo volo. L'aereo inizierà ora un flight test program completo che porterà alla certificazione e alla consegna nel 2019. "Tutto ciò che abbiamo visto durante il volo di oggi dimostra che il MAX 7 si sta comportando esattamente come previsto", ha dichiarato Keith Leverkuhn, vice president and general manager of the 737 MAX program, Boeing Commercial Airplanes. "So che i nostri clienti delle compagnie aeree apprezzeranno le capacità che questo velivolo porterà nelle loro flotte". Pilotato dai Boeing Test and Evaluation Captains Jim Webb e Keith Otsuka, l'aereo ha completato con successo un volo di 3 ore e 5 minuti, decollando da Renton Field a Renton, Washington, alle 10:17 ora del Pacifico e atterrando alle 13:22 al Boeing Field di Seattle.
L'aereo è stato sottoposto a test relativi ai flight controls, così come a checks su sistemi e handling qualities. L'aereo è il terzo e più nuovo membro della famiglia 737 MAX di Boeing, con una capacità massima di 172 passeggeri. Il MAX 7 ha un range di 3.850 nm, il più lungo di qualsiasi aereo della famiglia MAX. È progettato per fornire performance elevate ai clienti delle compagnie aeree che volano da aeroporti ad alta quota e con climi caldi.
"Il MAX 7 fornirà alle compagnie aeree un prodotto efficiente per l'apertura di mercati più snelli e per l'accesso a aeroporti difficili, godendo di tutti i vantaggi della famiglia 737 MAX", ha dichiarato Randy Tinseth, vice president of Marketing, Boeing Commercial Airplanes.
La famiglia 737 MAX incorpora i più recenti motori CFM International LEAP-1B, Advanced Technology winglets, Boeing Sky Interior, large flight deck displays e altre funzionalità per offrire la massima efficienza, affidabilità e comfort ai passeggeri nel single-aisle market.
Il 737 MAX è l'aereo più venduto nella storia di Boeing, accumulando oltre 4.300 ordini da 93 clienti in tutto il mondo.
(Ufficio Stampa Boeing – Photo Credits: Boeing)