La fleet size degli operatori di tutte le regioni che servono gli Emirati Arabi Uniti dovrebbe quasi triplicare fino a circa 1.730 aerei entro il 2038, da circa 630 oggi, secondo il 2019 Airbus Global Market Forecast (GMF). Ciò include 750 Small category aircraft come A320 e A321 e 980 Medium and Large aircraft come A330neo e A350, che serviranno il mercato degli Emirati Arabi Uniti nei prossimi due decenni. Si prevede che l'UAE O&D passenger traffic crescerà del 5,8% annuo nei prossimi 20 anni.
Nella più ampia regione del Medio Oriente, si prevede che il traffico aereo passeggeri cresca ad un tasso del 5,6% all'anno, che è ben al di sopra della media globale del 4,3% all'anno. Nello stesso periodo, il traffico merci vedrà un aumento annuale del 3,6%, in linea con la crescita media del traffico merci globale. Ciò stimolerà un requisito per circa 3.200 aeromobili rispetto a un requisito globale di 39.210 nuovi aeromobili passeggeri e cargo.
Oggi, cinque delle mega città del mondo dell'aviazione sono in Medio Oriente, con due, Dubai e Abu Dhabi, negli Emirati Arabi Uniti. Queste saranno più che raddoppiate a undici nei prossimi 20 anni, per includere città come Muscat e Kuwait City.
Il turismo continuerà a essere un settore in crescita per il Medio Oriente, con l'aviazione commerciale che è un fattore chiave, con i dati del World Travel and Tourism Council che indicano che il contributo del turismo al PIL mediorientale oggi è quasi del 9%.
Poiché il network aereo e il traffico continuano a svilupparsi nella Middle Eastern region, Airbus prevede la necessità di oltre 50.000 nuovi piloti e quasi 52.000 nuovi tecnici nei prossimi 20 anni. Il commercial aviation services market è valutato circa 515 miliardi di dollari USA nei prossimi 20 anni nella regione, principalmente nei servizi di ottimizzazione e mantenimento della disponibilità di aeromobili, come maintenance, material management, technicians training and system upgrades, seguiti da flight operations services che inclusono pilot training e Air Traffic Management solutions, infine passenger services come cabin upgrades, connectivity and ticketing.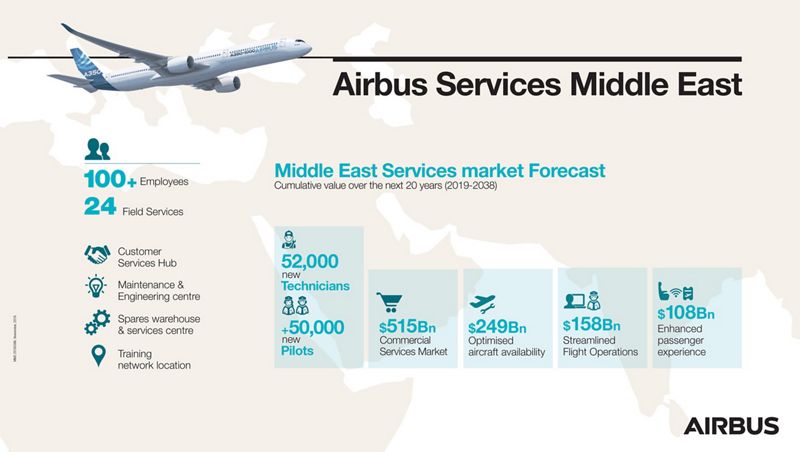 (Ufficio Stampa Airbus – Photo Credits: Airbus)