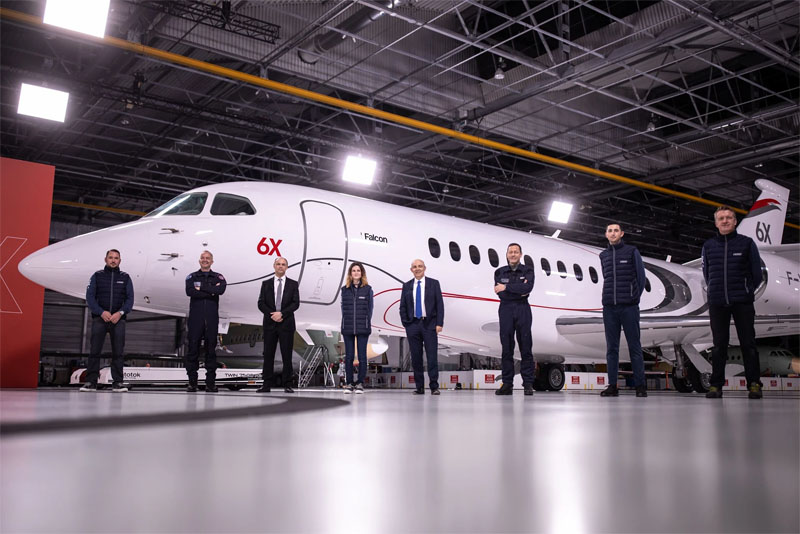 Il final assembly team di Dassault Aviation a Bordeaux-Merignac (Francia) ha aperto le porte della Charles Lindbergh Hall per mostrare al mondo l'aereo più nuovo e più avanzato dell'azienda, il Falcon 6X.
"Il lancio di oggi è un risultato significativo. Sono molto lieto di presentare l'aggiunta di un all-new aircraft design all'interno della Falcon family, l'ultra-wide body Falcon 6X", afferma Eric Trappier, Dassault Aviation Chairman and CEO. "Le sfide poste dall'epidemia Covid-19 hanno richiesto una perseveranza e una cooperazione eccezionali da parte di Dassault e delle sue aziende partner".
Sebbene le circostanze abbiano costretto l'azienda a organizzare una presentazione "virtuale", l'evento ha avuto una portata globale. Clienti e operatori da tutto il mondo si sono collegati per vedere l'aereo fare la sua prima apparizione pubblica. Nonostante la novità dell'ambientazione, la prima mondiale in diretta streaming è stata un grande successo, attirando un numero record di visitatori. Gli spettatori possono guardare un replay dell'evento su www.Falcon6XRollout.com.
"Il Falcon 6X rappresenta un importante passo avanti per i large-cabin business jet operators", ha continuato Trappier. "La sua pluripremiata cabina, la più alta e ampia nel settore della business aviation, offre livelli di spaziosità, comfort, produttività e sicurezza che stabiliranno un nuovo punto di riferimento nel long-range segment".
Il rollout apre la strada al completamento del ground test program e agli extensive systems checks che devono essere eseguiti prima del first flight, che dovrebbe avvenire all'inizio del prossimo anno.
Negli ultimi mesi Pratt & Whitney Canada ha completato i ground and flight tests del motore PW812D del velivolo, aprendo la strada al primo volo del 6X.
Con un range di 5.500 nm (10.186 km) e una top speed di Mach .90, il Falcon 6X può collegare i passeggeri ai principali centri d'affari. Può volare da Londra a Hong Kong o da Los Angeles a Mosca senza scalo. Il Falcon 6X può anche eseguire avvicinamenti sicuri a partire da solo 109 nodi, più lento di altri business jet. Ciò consente al 6X, come gli altri Falcon, di accedere in sicurezza a piccoli aeroporti dotati di ultra-short and hard-to-reach runways.
(Ufficio Stampa Dassault Aviation – Photo Credits: © Dassault Aviation – A. Daste)